Party planning is a piece of cake at Fiesta Village!
Our goal is to provide a flexible, accommodating and fun experience when it comes to booking a party with us! Whether it is for a Birthday Party, Team Party or a Holiday Celebration we got your FUN covered!
1. Choose a Party Package!
2. A Time for the Celebration!
… then you're all set for your Big Event!
All parties include 2 hours of table time!
Currently, all party areas are all outside in the sunshine (with shade). Please contact us at (909) 824-1111 to discuss options!
Choose your party package:
Slugger's Supreme Party
3 Hours of Unlimited Go Karts, Miniature Golf, Amusement Rides, Roller Skating with Rentals and Lazer Tag
$35
per person
Fiesta's Skating Party
2 Hours of Unlimited Roller Skating with Skate Rentals included
$17
per person Looking for more fun?! Add time to your wristband for only $8 per hour per person.
To take advantage of this rate, a reservation must be made at least 1 week in advance with a $50 non refundable deposit. A minimum of 10 wristbands must be purchased on the day of the event. If less than a week, call us to check availability at (909) 824-1111.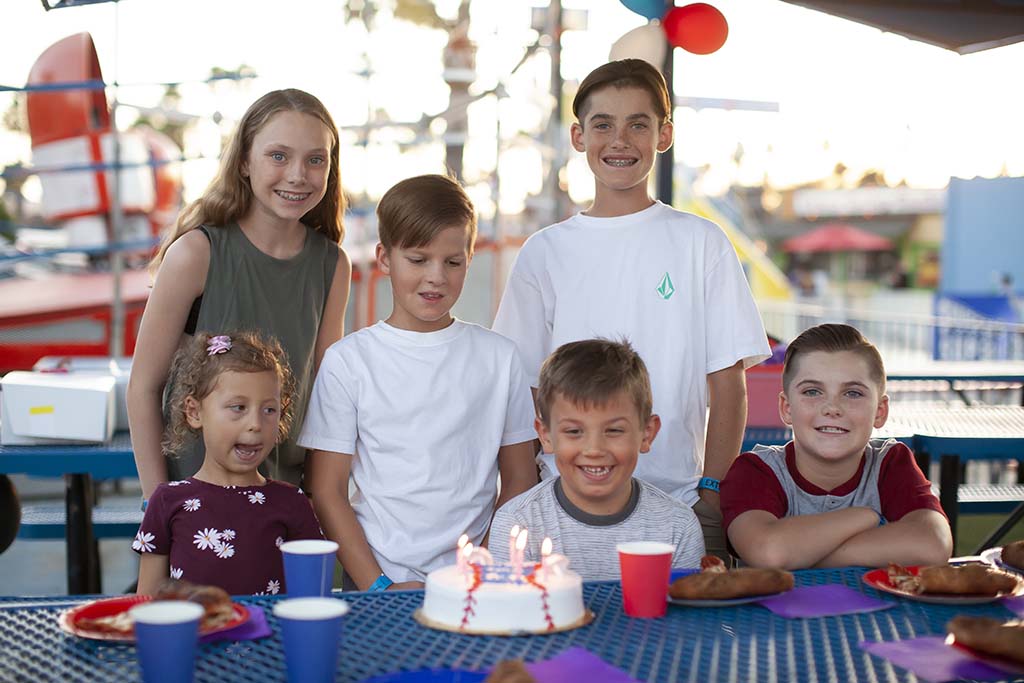 Food Options:
Parties may bring in their own food! Something simple like pizza or sandwiches! (Per County Health Code we are not able to store your food items as well as we are not able to warm up food items on site). At this time, all parties are non-hosted. Nickelodeon Restaurant, located onsite, is available and you may order from them and bring that food to your tables at Fiesta (No alcohol or glass bottles are allowed to be brought to your tables).
Cake Time!
You are more than welcome to bring your own cake or cupcakes! Per County Health Code we are not able to store your items (cake, cupcakes or ice cream). For an easy ~and delicious~ option, consider ordering an ice cream cake from our onsite Dairy Queen! To place a cake order call
(909) 422-1501
Decorations:
We will make a birthday sign to honor the party VIP! You are more than welcome to bring in simple decorations for your festivities- table cloths, balloons, etc. (but pretty please no confetti or silly string)
Ready to Book?!
Book a Party Now!
or call
909-824-1111